[
NINa
and Marco Gariboldi, e-mail interview, 2008-07-16]
---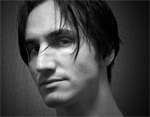 Marco: "Dirty, Sexy, Electro Rock" - this is how your music is described. And it fits perfectly. Do you care how they classify your tunes? Does it help to sell your music, identify with a certain music scene/subculture or increase recognition by the new fans?
Lawrence Stone:
One of the things I've tried to do with the latest release is position VTG as more of a traditional band and less of a genre vehicle. Frankly, I'm sick of scenes, I never got it... "Let's all band together, act the same way, dress the same way and listen to the same music... and revolt from the masses." Seriously, what? I think scenes, under any guise, limit people from experiencing the full breadth of life and that's a bummer.
As for labeling VTG, I think the way we describe the music is spot on, but you can label it however you want. Call it hip hop and toss it on a mix CD between Jay-Z and Tupac and I'll love you for it.
Marco: Your new E.P. is entitled "Love Is Letting Go". Do you refer to your private life? Is there usually a place for your private life in your lyrics?
It's all real and for the most part refers directly to my life and the emotions floating around in my head. I've always loved the idea of telling a story and have done my best to write concept albums to deliver it. "So Beautiful People Look Away" was the same way and the next album will take it a lot further.
'Love is letting go' is a phrase that has two meanings to me... they've both been integral to me over the past few years. The notes, the words, the shit in between, is my own self induced therapy.
NINa: I'm sure a variety of other topics influence your mind to write the lyrics. Are there any specific novels or stories amongst all? Do you read anything?
I read when I can, though certainly not enough. I feel a certain affinity for Herman Hesse's works. Narcissus and Goldmund is my favorite. Most of the books I read come as suggestions from my father, who's apparently read every book in the world, because anytime I suggest something to him, he's already been there, done that.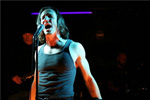 Marco: There are 2 amazing DJ sets on your official Myspace where you mix several tracks by such artists like NIN, ohGr, Haloblack in an excellent and danceable arrangement. It's clearly visible that you love different music styles. Where do your inspiration roots come from?
HA! Well put.... I love anything from Earth, Wind and Fire to Leonard Cohen. In school I got really into Aphex Twin, Red Snapper, Squarepusher, Portishead and Lamb... lots of trip hop. For a short while, I breathed industrial... Psychopomps, Babyland, NIN, Manson, KMFDM, Hate Dept, Chemlab... the usual suspects. Currently, my go to artists include Prodigy, I Am X, Pendulum, Trente Moller, Moonbootica and Dave Gahan.
I'm going to start dj'ing again... I'm quite excited about that... it's been a while.
Marco: You're signed to Robert Ferent's Digital Brothel Records. He also collaborated with you in writing and remixing your past works. How was the collaboration born with this talented artist? Will he be present on your next album?
VTG is currently an unsigned, self-released venture. Our first release was of course with DBR (who are fucking awesome). The decision to release "Love Is Letting Go" independently was to jump start the label I've just started called 3am Devices. It's a small boutique label focusing mainly on Hard Electronica, Breakbeat and Electro Rock.... or any dirty cross-pollination of the two.
I met Rob while I was in college and back in Boston. We were both releasing tracks online at the time and I'm not sure if it was he or I who contacted the other... but we'd heard each other's music and decided to get together. I've always loved Rob's music and as much as he might disagree, I think he's got an innate musicality that's very rare. So.... we started working on stuff together.... He had a band called HN (Hogtrophonic Noise) at the time and I worked a bit on his stuff and in turn I'd send him VTG tracks.... and he'd always send me back some wild shit... I mean like four versions of a song, all totally different and fucked up. He would always, always, always send me back a noise version of a song... The Untitled track on "So Beautiful People Look Away" is actually a remake of an HN song I did. I know Rob's sitting on a half finished HN album and I know when it actually comes out it's gonna fucking rock. I look forward to working with him on it.
Mr. Ferent won't be present on the next release, but I'll be begging him to work on a remix and on the album afterwards.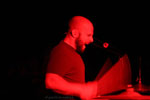 NINa: You know I love 'You' song the most, don't you? ;) It's a great track to make it a promotional single. Who's going to take care about this song remix on the album following 'Love Is Letting Go'?
Yes, I'm very fond of the song "You". It will be one of the singles from the album, though not the first. "I Lie Pretty" will be the first single... we're almost done finishing up the computer graphics for the music video of it and I'm very excited to release it. Hopefully, it will make everyone feel very uncomfortable.
That being said, I plan on pushing "You" in the dance market and will be releasing a few remixes of it. Currently, there's a VTG remix and another by Taury Goforth who fucking KILLED it. I think you'll find his remix very, very satisfying. In the end though, anyone can remix "You" as I'll be releasing the "Love Is Letting Go" tracks under Creative Commons.
Now that I think about it, I've got to beg Brian Ostreicher, drummer for VTG, to do a "You" remix. He nailed that song in one take at the studio. He's a fucking machine. Him and I will be working very closely on the next album together.
Marco: Are you working now or will you in the near future on any other artist's release, speaking of a collaboration or remixes? If no, are there any particular artists whom you admire and would like to collaborate with?
The only VTG remix in the last few years was for Bryan Black of XLover, Haloblack and Motor. I did a remake of "Lovesucker". I'd love to do some work with Chris Corner of I Am X. He's frighteningly talented.
NINa: I can hear some of Scott Weiland's influence in your music. I mean Stone Temple Pilots for the most part. Did you enjoy this whole grunge/hard rock scene in the 90s which was growing up along with industrial rock on the other side?
Geez, we're digging back now... when I was about 14, Cobain was one of my idols. I can remember the day he passed away... I spent the whole next month collecting articles about him and Nirvana and stashed them away into a photo album. I believe it's in an attic somewhere in Massachusetts.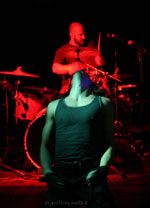 NINa: Seems like there are lots of opportunities to have a band in California and get a support thanks to many clubs and fans over there. What's your favourite place to both watch and play the gigs?
I'd have to say my favorite venue to perform in the city is the DNA lounge. For shows, I'm quite fond of Mezzanine, but that's mostly due to the acts that come through there... I just recently caught a great show with Motor, MSTRKRFT and Moby at Mezzanine.
Marco: You said that you would be touring in Japan and other countries outside U.S.A. this year. It's a big challenge to tour all around the world. What's your opinion about Industrial Rock nowadays? Is there any difference to perform this music in Japan to Europe or U.S.A.?
This October VTG will be in Japan... I think it's quite daunting to tour and play anywhere without any label funding. But in the end, fuck it, we love it, we'll do what it takes. My opinion on Industrial Rock nowadays... honestly, I don't really have one. I think a lot of music has emerged from it, but as a parent genre I haven't been excited by any new bands emerging from it in years. Differences from Japan to Europe? on paper, tons... but I'll have to give you cold hard facts after October!
NINa: What are pros and cons about living in California?
Pros: The weather, the music, the weather, panhandling.
Cons: Mostly the people and the word "Hella".
NINa: Where would you like to land up and spend some time if you had a chance to travel in time?
I'd like to spend some time in Eastern Europe... Hungary, Poland, Romania... At some point, I need to get back to Paris and write an album. Actually, it'd be interesting to do some touring and writing in Berlin as well...
Myspace
|
official website
---
Pictures come from VTG archive, all copyrights reserved by © Geoffrey Smith II, VTG.