[
NINa
and Brian Backlash, e-mail interview, 2008-04-16]
---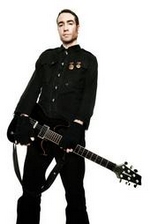 Brian Backlash: Almost two years ago, NINa and I interviewed you to talk about Victory Pill and your work up to that point. How much has changed for you in that time? Have things progressed favorably for the band?
Jim Davies: Well, since we last spoke we have done quite a few gigs, we toured with Static-X and supported Skindred as well and done lots of little gigs. We keep it very low-key though, the gigs we did on our own were tiny – it's difficult without massive label support, there's no way V.P. could tour like Pitchshifter did, and that was never the intention anyway. We have also written most of the second album, it's far more electronic this time.
Brian Backlash: Tell us a bit about the new album.
Well, like I said its far more electronic, I'm working far more in the dance scene these days, in fact I have very little in common with what is going on in the rock scene now, I don't like any new bands at the moment, all sounds the same 'Iron Maiden'/'Machine Head' rip off shit. I look back at when Shifter did the www ['www.pitchshifter.com'] album, rock music was so much more creative and exciting, bands were appearing that really broke molds and were doing something new and exciting, now it's just shit. I listen to stuff like Underworld and Depeche Mode and loads of breaks and drum and bass, the next album will be more along those lines, directed at a dance market rather than rock. It will still be quite industrial but not 'heavy' guitar wise, heavy beat wise and lots of weird guitar sounds and melodies. We have 7 tunes done now and a dance label who want to release it, so this time around we won't be doing it D.I.Y. which is great, takes the pressure off us. Pete Crossman, who mixed and produced a lot of the first album has become my main writing partner for this album, we found him a little too late for him to contribute much on the first album, although he played a big part in 'Downfall' and 'Odds Get Even'. The tunes we are writing for the second album are hard as nails beats wise, it's his time to shine on this second album, it takes a little pressure off me too!
NINa: You sold the Victory Pill debut album on iTunes. Was it difficult to get the album released with them?
We have a digital distribution deal in Europe with iTunes, I think it's the way forward, it's hard to get it out physically in all of Europe. It's been quite a disjointed process releasing this first album, the next one will be released worldwide all at once and hopefully physically, we've learnt a lot from doing this first album.
NINa: The internet aside, are there any stores where people can go physically buy the album?
I have no idea, I think it will be available on import in some shops but if you go to www.thegenepool.co.uk you can order it there and they will send it out to Poland, I asked them especially!!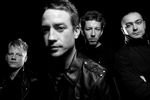 Brian Backlash: The music industry has been in an increasing state of flux for the past few years, and it's a very exciting time to see the different and divergent directions labels and artists are going in. Does this state of instability worry you very much? Does it excite you? What do you hope might be the end result?
I think it's good major labels are in trouble! Serves them right! There's too much of that 'if you don't sell a million on your first release your dropped' mentality, labels only seem to (want) bands that will sell loads immediately without them having to work it. Now bands can do a lot of what labels were supposed to do themselves. The artist is in a lot better position. The only problem is touring, that's one thing a label is good for, tour support, if you don't have this it's hard to make gigs pay or even break even.
NINa: The new album is packed and ready for sale both in stores and over the Internet. When are you going on a promotional tour?
We're doing a few more gigs with Skindred in the U.K. in the next few months then it's going to be time to stop and finish album two. I'd like to play in Poland if we got the offer and it made sense, if not we may have to wait till the next album is done and then tour.
NINa: What other merchandise will you be selling at your shows, besides the album?
We have some great tee shirts on our website that we'll be bringing when we eventually get there!
Brian Backlash: What's been the biggest setback you've encountered?
Nothing massive, it's just hard doing things D.I.Y., but far more rewarding. We found the U.K. rock press very hard to deal with though, they only seem to be bothered if you are injecting their magazine with advertising money. We ended up getting the album reviewed in most of the mags but it was such a struggle, the reviews were all good though so it was worth it.
NINa: What inspires you when it comes time to write lyrics? Is it about TV, street life, the past, the future?
Just things that stress me out really. I tend to write the melody first then the lyrics, after playing around with words for a while I tend to get on a good roll and get the song finished quickly. I like to try and get a story for the lyrics, for instance the song 'King and Country' is about my two great granddads both of whom were gassed on the Somme in World War Two, a subject like that has so much more value than a simple 'I hate the world, you're all against me' type shit!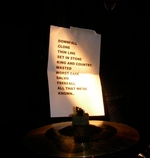 Brian Backlash: What is your favorite Victory Pill song, to date? Is it a song that says a lot about you as a person, as well?
'Downfall' its a great combination of beats and guitars, it rocks live, the lyrics are about taking pleasure in someone's 'Downfall' who has massively had it coming!! I think we all wish that on certain people in our lives at some point.
Brian Backlash: How much do you think you've improved as an artist since you began Victory Pill?
Yeah, I've got alot better at programming, I used to write very basically on logic audio but over the last few years I've got alot more into it. I just think the more you write songs the better you get, no matter how long you've been doing it. Vocally I've got alot better, the first album was really the first time I've done vocals and through doing all the gigs I've gotten a lot more confident with it. I'll push myself a lot harder on the second album than I did on the first.
NINa: Do you, as a British citizen drink tea regularly at 5pm or is it a custom in decline these days?
Of course and I meet the Queen at weekends. I've met many Americans who actually think we all stop at 5 for tea and crumpets.... Jesus!
Brian Backlash: How have crowds in England and elsewhere responded to your performances?
It's been great, the thing is that Victory Pill are quite an underground band, we weren't on any magazine covers if you know what I mean so anyone that came to see us did so because they found us by themselves or from an album review or word of mouth. I really like that. So most of the gigs we did on our own were great, we did quite a few supports like with Static-X and their crowd didn't know us but we won over a lot of people from those shows
NINa: What would be a real "victory pill" for you personally speaking?
Err, I'd like to take a pill that makes me invincible on Call of Duty 4 on the Xbox.
Brian Backlash: I've also considered Victory Pill more of a 'crossover' band. You're not strictly rock, not strictly electronic. Your style can change from song to song. Do you see yourself as having a cross over audience as well? Who are some of your most devoted fans?
We do have fans from both the rock and electronic side of things but mostly people who are into both! We have a lot of people that love the album and are constantly bugging us to tour, I like that! We aren't touring much really at the moment. I want it to be an event when we gig on rather than be a band that plays all the time.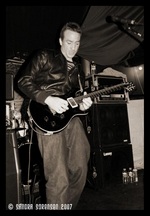 NINa: Besides leading Victory Pill, do you do other work, musically or as a day job?
I'm working on lots of other projects! All musical. I've just finished an album with breakbeat DJ HYPER, it's sounding great, should be out soon. We are starting to play a few big gigs in East Asia this summer before the album is out. I've done all the guitars and done some vocals too, check it out, (
www.myspace.com/hyperuk
)
I'm also doing an album with an artist called Odissi, she's a vocalist that has sung on alot of big breakbeat tracks, its called Sex and Circuitry, basically filthy electronic rock, we're starting to gig it next month, we've got some gigs in Russia coming soon but we'll be doing loads in Europe soon. I think people that like Victory Pilll will love it. (
http://www.myspace.com/sexandcircuitry
)
The new Victory Pill album is coming on well and I've just done a guitar instrumental album too, so I've got enough on to keep me busy! My new Myspace has all the details (myspace.com/jimdaviesmusic /link inactive/).
NINa: Dose Productions makes great work for you with designing and artwork. Do you get any discount since they produced stuff for Pitchshifter, when you were a member in that band? ;)
Haha, no I don't! We used them cause I've always loved what they do, they've have done us lots of beyond the call of duty favors! But we pay in full!
Brian Backlash: What do you hope you'll have accomplished by the time we interview you again, in say, 2 years from now?
Mmmm, good question, I hope to still be enjoying music which I'm sure I will! I'll be working on the 3rd V.P. album no doubt! Thanks for the interview.
Victory Pill at Myspace
Interview with Victory Pill in 2007
---
Pictures come from Victory Pill's archive, all copyrights reserved by © Chris Davison, Sanda Sorensen and Victory Pill.