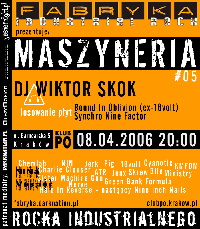 Date and time: 08.04.2006; 8 PM - 2 AM
Where: Poland, Cracow, PO Club, Garncarska 5 Str
DJs: NINa, Vesper
Ticket: 6 PLN
Playlists:
NINa
Vesper
FABRYKA [INDUSTRIAL ROCK] PREZENTUJE:
MASZYNERIA #05 i DJ Wiktor Skok, 08.04.2006, KRAKÓW, KLUB PO.
Po długiej przerwie i wielu pytaniach - "Kiedy znowu zagracie?" odpowiadamy:
Kolejna Maszyneria odbędzie się w sobotę 08.04.2006 w godzinach 20:00-02:00 w krakowskim klubie PO, ul. Garncarska 5.
Wstęp: 6 PLN
Podczas imprezy między innymi:
:: Dwugodzinny set świetnego
DJa Wiktora Skoka
, znanego z wielu występów na festiwalach, koncertach i imprezach o charakterze industrial, noise, electroindustrial, a także wydawcy magazynu Plus Ultra.
:: prezentacja nagrań zespołu Halo In Reverse, następcy Nine Inch Nails
:: prezentacja remiksów Charliego Clousera (ex-Nine Inch Nails) oraz muzyki zespołu Chemlab, od ponad 17-tu lat aktywnego na industrialno-rockowej scenie muzycznej
:: prezentacja wszystkich innych nagrań, do których przyzwyczailiśmy Was od pierwszej edycji Maszynerii, a także tych, pochodzących z listy przebojów audycji Radioamancer, prezentowanej co czwartek na antenie radia Streamelite.com - czyli mocno, ostro i gitarowo! Klasyka i nowości: NIN, Ministry, Sister Machine Gun, Rorschach Test, Unit 187, Skrew, Bound In Oblivion, Jenx, Cyanotic, 16volt, Nerve, Green Bank Formula, Acuman Nation, Pig/Watts, Revolting Cocks, Bile, Gravity Kills, Jerk, KMFDM, Secretly Canadian i wiele innych.
Industrialno-rockowe sety prezentują jak zwykle 'fabrykantka' NINa ;) i Vesper.
::
do wylosowania 20 płyt zespołu Bound in Oblivion
(Johnathan Case jest ex-muzykiem znanego w świecie rocka industrialnego zespołu 16volt - pozwolenia na kopiowanie i promocje specjalnie dla Fabryki!) oraz
::
6 płyt amerykańskiego zespołu Synchro Nine Factor
, który w swojej 9-letniej historii koncertowal z takimi sławami jak Pigface, My Life With The Thrill Kill Kult, Zeromancer, Bile, Decoded Feedback, Circle of Dust, Slick Idiot, Hanzel und Gretyl, Sister Machine Gun, Voodou, Christ Analogue, SMP czy tez God Module
:: nowy sposób prowadzenia imprezy, ale o tym przekonacie sie na miejscu!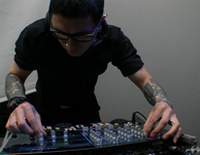 [Wiktor Skok]
: protagonista kultury industrialnej i aktywista sceniczny, lider i wokalista grupy Jude oraz wydawca zine'a Plus Ultra. Robotę DJa uważa za proliferację swoich muzycznych pasji i element estetycznej propagandy. Główne bieguny jego pasji stanowią electroindustrial; EBM, power noise. Momenty zawierają zazwyczaj rytmiczny, beatowy zgiełk ale mogą być zarówno apologią łomotu jak i miłych dla ucha melodii. Wiktor Skok emituje miksy industrialnych urban field recordings, dark ambient; nagrań znalezionych i klasyków. Łączy swoje własne produkcje z szeroko znanymi standardami industrialnego hałasu. Jego sety niosą zaskakujące zwroty bruityzmu i tonalności, obok siebie współgrają kompozycje Dymitra Szostakowicza, Karola Szymanowskiego, szlagiery Marleny Dietrich, Zarah Leander oraz totalne, maszynowe serie Esplendor Geométrico czy Vivenza.
Patronat medialny:
Fabryka [Industrial Rock]
Alternation.pl
Darknation.pl
Streamelite.com
Yesternight.pl
[Info]
http://fabryka.darknation.pl