Date and time: 17.03.2004; 20:00-?
Where: Lubu Dubu Club-Caffebar, 15 Wielopole Str, Cracow
DJ: 8 PM - ?
c0n
Ticket: 0 PLN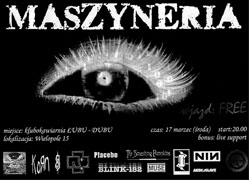 The second event was organized by C0n only because I had no time for that during the week. What's more Kuriozum Club was near to be closed and that's why C0n found another place for Machinery. This time it was Lubu Dubu Cafe well known of presenting the 80's hits in Cracow. I don't have either any DJ set for this event or informations about how many people were there.