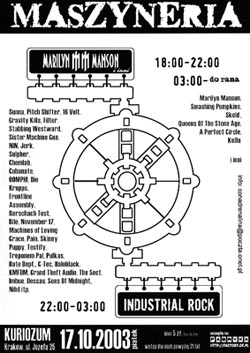 Where: Kuriozum Club, 25 Józefa Str., Cracow
DJs:
NINa
, c0n
Ticket: 5 PLN
Playlists:
NINa
The debut Machinery started in October 2003. I didn't think about organizing any party in that time. I was busy with working, designing covers for Plankton band and playing FPP games. When I went with some posters and covers to a printing company I met Marilyn Manson's fan, who suggested me to do a party. So I said - yes.
We decided to play Machinery sets in well know alternative club - Kuriozum. The club exists no more but lots of good parties took a place there including Discordia and Slave Stage events.
It was my very first party so I was stressed as an organizer-amateur. Luckly the club had a sound engineer who helped us in tuning both PC and a mixer. The event was visited by at least 80 people so as for such music style as industrial rock the party was successful.