Fabryka Industrial Rock Magazine – www.industrialrock.net - 2006 industrial rock music summary:
---
Bands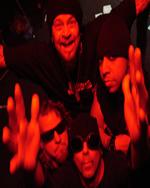 Ascending:
16volt, Acumen Nation, Bound In Oblivion, eXelement, Fanoe, Halo In Reverse, Hazmat, Isol8ed, Lucky Striker 201, Malekko, ManufraQture, Mephisto System, Chemlab, Project .44, Pulse Faction, Replica, SiNDADDY, Stayte, Snow Black, Victory Pill.
Descending:
Nine Inch Nails
Surprising:
Treponem Pal reactivation
Albums
Interesting:
The Suggestion of Power - Snow Black
MachiNation - Marazene
Frozen Lies - Burning Retna
Cocked and Loaded - Revolting Cocks
Hordes of The Elite - Glitch Mode Recordings (Cyanotic)
Rock Whore vs. Dance Floor - Chemlab
Out Out - Virtual Sound Images
Lucky Striker 201 - Lucky Striker 201
Surprising:
Ministry - Rio Grande Blood, Killing Joke – Hossannas from the Basements of Hell, Acumen Nation - Anticore
3. Events
Interesting:
Wroclaw Industrial Festival (Poland)
Disappointing
(cancelled in Poland): KMFDM, Panic DHH, Killing Joke
---

Personally, I found 2006 very active, mostly because of joining the Myspace.com community and rebuilding the Fabryka webzine, which gave me direct contact with the artists I was interested in, and resulted in wider promotion and support both for the bands and Fabryka.
It gave me a chance to observe the industrial rock scene, somewhere still alive but somewhere completely left dead with no greater support of the listeners and mutated into electro/gothic music.
I wrote this summary in three parts, with no point for record labels because industrial rock bands prefer (or are made to!) release and sell their albums themselves (official online shops). It happens also because they are just nailed down due to the fact no major record company supports them or show any particular interest. Other than that I mention a few promising and/or professional labels in the links section below the summary.
There are a few internet webservices supporting new, unsigned but also well known bands to help them promote their music. They are also helpful for music journalists to find new music, directly contact the bands, observe trends, or collaborate with other writers. Such webservices whose growth has been observed for the last couple of years, helps to develop a webzine or a magazine of any kind. I was using the IUMA service a few years ago, which probably was one of the first such promotional tools for independent artists. There is also PureVolume, AcidPlanet, Garageband, Vampire Freaks or Bandspace but I would say the all-time interest goes to Myspace for its flexibility and ease of use. Such a flexibility doesn't work well for either visual attraction or it's performance, but millions of people have come to terms with it. Personally I think there are three key tools to develop a kind of new internet community or even generation Ė Myspace, YouTube and the Wikipedia encyclopedia. All of them allow to take part in revealing and building a history thus becoming great resources to improve your knowledge at the same time. I won't take the time to describe the services in detail because their main feature is something I call a "chain reactionĒ so you can check it out yourself. Letís move to the summary now.
The first category, called "Ascending BandsĒ, lists the bands I've found to be particularly interesting, featuring well produced music, performing live on a regular basis, and access to promotion and distribution channels.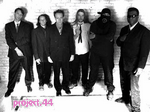 Most of those bands either released new albums this year or plan to sometime in 2007. Project .44, Marazene, Cyanotic, ManufraQture, SiNDADDY, Snow Black, Hazmat and Lucky Striker 201 are the bands in this category. The first four hail from Chicago, known for being a cradle of industrial rock music that was inspired by the late 80ís and early 90ís Wax Trax! record label and affiliated bands. Marazene released their debut album called MachiNation; various tracks were featured in Fabryka podcasts. Cyanotic is about to put out a new collaborative album in the beginning of 2007; Transhuman 2.0, which will include material made in collaboration with FLA, 16Volt, Acumen Nation and Rabbit Junk. SiNDADDY is releasing IntelligenCIA, to be followed with a remix CD called HiperDISCOcordia and a full studio album, The King Star, in 2007. Snow Black, a band founded by Phil Owen (Revolting Cocks), who helps me with Fabryka podcast musical content. Thanx Phildo! His release is called Suggestion of Power, and you can purchase it now via the official band website
www.snowblack.org
.
My theory about awesome heavy guitar driven music rooted in Texas, USA is supported by the songs of Pulse Faction, which you can listen to at their official website
www.pulsefaction.com
.
Bold promotional steps were taken by Hazmat with his 4 Point Perspective album, which he made available for free download at his label's website, www.primordialmusic.com. Lucky Striker 201, who released his effort and likewise make it free and downloadable
here
under a slogan that "Music is art. Art is not for sale.Ē Hazmatís 4 Point Perspective will be followed by a remix CD where in addition to the others artists featured, an amazing Australian composer Adam Pask is currently making a remix track. Other artists featured on the album as well as a release date are pending. These professionally produced albums should be a revolution for those who understand that it is difficult to see a financial return on making music these days.
Also released is Chemlab's long awaited remix album Rock Whore vs. Dance Floor. The record sports different songs from Oxidizer, in a wide variety of remixes by such well known artists like Needleye, Cyanotic, Adam Grossman, 16volt, Die Warzau, Terrorfakt, Deadliner and others. Interesting albums came from the Revolting Cocks (Cocked and Loaded) and Burning Retna stables (a collection of songs recorded while both Charlie Clouser and Sean Beavan were in the bandís line-up in the early 90ís). The newest work of Mark A. Miller called Virtual Sound Images shows non-industrial but still improving tunes of his project Out Out.
I got the newest album of Idiot Stare just at the beginning of 2007 but the CD was released last year so itís worth mentioning this interesting record as well in this summary.
A new remix album by a great edgy effort called Project .44 should have been released this year but was postponed until sometime in 2007. The band was formed by a few well known musicians including Louis Svitek (ex-Ministry) and Charles Levi (Thrill Kill Kult, Die Warzau, Chemlab) and were very active in 2006, performing a large swath of live shows. I recommend investigating their previous two albums as well.
Many interesting bands are in the process of recording new stuff so itís worth mentioning several releases. Planned for 2007 is FullBlackHabit, from veteran industrial rockers 16Volt - their first effort of brand new material in nine years. The album will be supported by a full length tour and a remix CD as well. Also the musicians of Bound In Oblivion (frontman Jonathan Case aka Irish was a member of 16Volt on LetDownCrush album) made several awesome songs which will be released sometime this year.
There is also former Slick Idiot drummer Michael Carrasquillo, whose project Isol8ed will be releasing the first studio album called The Scene Full of Invisibles in 2007.
The aformenetioned bands are all American. Let's take a look at the European scene. My attention was drawn to Fanoe and Mephisto System, both new bands which hail from Switzerland. Moreover I do recommend Victory Pill - the newest effort of Jim Davies (ex-Pitchshifter) who after the release of the "Another CloneĒ is preparing to hit music markets with the full album also in Europe. There was also good news from Treponem Pal, the first and most known French industrial metal effort which had been defunct since the late 1990's. The band announced its comeback this year and a new album release is planned for 2007.
Unfortunately, due to electro-gothic or electro-industrial bands collective influnce, Europe doesn't make for a mecca of pure industrial rock music. Their albums have both good promotion and distribution, especially via P2P networks and they are also often played at club nights. Itís all good but the disadvantage is that this style is not industrial rock as many listeners tend to believe, and keep repeating to the others. It seems they donít want to see the difference to the purity of industrial rock tunes. This perspective is also typical in Poland. Some of the bands are put into the Ďindustrial rockí genre but they have nothing in common with this style. Such a mislabeling depends mostly on journalists who appear be too lazy for any deeper investigations or are simply ignorant in regards to the history of the music as a whole. They do not try to specialize themselves, altho the internet gives such an opportunity. So this is kind of my personal admonition to music journalism community to check out several sources of information before they write about something that really matters.
Now letís continue to our Disappointments category. This is all about Nine Inch Nails and the direction Reznor took after 2001. The musicial activity of "newĒ NIN makes me concerned. The image of Trent which he worked out so well in the 90ís has nothing to do with these days NIN and was damaged with such releases as Things Falling Apart and especially a really flat With Teeth. I really donít care if the new listeners like this music. NIN became a somewhat different band to who they were in the 90ís, especially staying with the old band name. The difference appears mostly due to a lack of Charlie Clouser who stood for band creativity and new solutions for songs composing. NIN plans to release a new album in 2007 as well but will it be sharp and fitted to the bandís name we used to know? Weíll listen to in a few months.
Another band who was instrumental to industrial rock history is Ministry, whom have been releasing more and more heavy albums during the last few years. They appeared with a new line up in 2006, and the lack of Paul Barkerís characteristic bass lines and input is very significiant and noticeable. The newest album isnít bad because itís still edgy but itís different and straying far from previous releases. The future of Ministry seems to be a little bit unknown since Paul Raven made a statement in of the interviews that the next album to be released in 2007 will be the last one for the Ministry camp. Should we believe? Who knows... Paul Barker has a new project with Adam Grossman (ex-Skrew). The project is named Malekko and the musicians, along with Andy Whorehall (The Narcosis Designís frontman and Stayteís guitarist) as lead singer, plan to release a debut album in late 2007 to be followed with a series of live shows around the USA and Europe. The only thing I can reveal right now is that itís not gonna be any industrial album for sure, but it turns far more to the 80ís new wave style. Plus, itís being done with passion so Malekko is a name worth remembering.
Some of the bands playing different tunes surprised me this year because of a new, heavier music put out on the CDs. In this category should include the newest albums by Killing Joke: Hossanas From The Basements of Hell, and Acumen Nation: Anticore, which has been probably the most edgy album of theirs thus far. Acumen Nation is also a bit of a disappointment at the same time. Brian Backlash and I attempted to interview them at least 4 times, even with a help of other musicians we still havenít gotten any reply for the interview requests. Iím also disappointed with no answer from Raymond Watts or rather his management who suggested me to have this interiew done. Then the questions were sent and ... seems forgotten. Thatís a pity because I expected several interesting answers. Should I have a call the next time instead of writing emails? Weíll see...
Now, for "Events" - my thoughts on shows, club nights and festivals. I wasnít that active last year but I noticed a few things to share with you now. As for the Polish events Ė they were mostly disappointing. Parties announed as Ďindustrialí had hardly anything to do with real industrial or industrial rock music and the reason is explained earlier in this article. Music presented during such parties was a collection of songs everyone of the listeners used to know by heart from their home computers. Iím disgusted mostly due to the listeners attitude Ė complete lack of an interest in new bands and their music. Also it makes almost a discussion war when you try to warn someone that Ďindustrialí term is huge and subgenres/labels were created to use them properly. Excuse me please, would you use flour instead of sugar for your tea, being aware that sugar exists but you are too lazy to buy it in the nearest grocery?
I also have a feeling that living in Poland is like living in a museum where a glorification of the past is the only thing what really matters. Itís hard to bring some fresh and heavy stuff to the scene here because some magical wheel of history still keeps it hard to get it exposed. Skinny Puppy, NIN and Ministry, sometimes Filter or Pitchshifter names/songs are widely recognized, but itís really hard to find someone with a greater knowledge and outlook for another bandís music over here. Thus the club night organizers are almost forced to play the same DJ sets over and over again to not lose money put into the event. Once again this is caused by the broadcasting media, record labels and distributors which do not support new bands. The lack of money flow is a dominant factor. It creates a kind of a blind wheel stopping any progress, but certainly possible to break it through. This is how I held Machinery events and began spreading mp3 files with podcasts done with Vesper to promote interesting bands and... yeah now you can listen them on your computers :) The bands whose music or spoken messages have been featured in the podcasts so far have been: Snow Black, Project .44, Replica, Burning Retna, eXelement, Fanoe, Misery Loves Co., Violent Work of Art, Peter Hajba, Skold, Society Burning, SiNDADDY, Marazene, Cyanotic, Victory Pill, Isol8ed, 16volt, Bound In Oblivion, Halo In Reverse, AR3A, November 17 (N17), Cruentus, Chemlab, Hazel, Green Bank Formula, Triptaka and ManufraQture. Iíd like to thank all the artists who gave us songs for a promotional use and made some really cool spoken jingles :) I hope this kind of promotion will attract other industrial rock /industrial-metal artists and weíll get even stronger support. The newest podcast is still available to be downloaded from Fabryka webzine Downloads section so check it out.
Now about industrial festivals. There is only one such well known pure industrial music festival in Poland, and altho it has nothing in common with the industrial rock subgenre, it's worth mentioning in the summary, because it brings a variety of interesting and well known artists every year. I hope that Wroclaw Industrial Festival will keep its shape and thanks to a bigger number of visitors weíd be able to watch also such artists like Lustmord, Foetus, Whitehouse, Brighter Death Now, Megaptera, Merzbow or New Risen Throne. Might it help to change the date to summertime..?
A total disappointment were the three shows which were cancelled due to unknown reasons. This is how Killing Joke, KMFDM and Panic DHH couldnít play live shows over here and whatís more important is that the shows were organized by the same events agency - Pop Noise. Itís also sad that a great number of overseas bands are invited frequently to other countries near Poland like Russia, Czech, Germany or Slovakia and then have to pass over Poland due to a lack of professional events agencies and places to play shows at. NIN, Ministry, Pitchshifter and some other bands' live shows are long awaited ones to happen for sure.
As for other notes about music: the music industry is dominated by copycats and itís not any news for sure. Unfortunately those listeners who donít see the real difference between professional and originally composed music and a cheap quality copy of it's general style support the copycats unconsciously. They donít give a chance to the bands whose goals are to present something new and original. This is an a bad situation for media, club events, live shows, record labels whose enthusiasm ends up in doing nothing more than releasing specifically commercially viable music. This is also a poor situation for the audience because such a blind wheel doesnít help to bring ambitious more ambitious music to them.
Itís not that clear where the beginning of this chaos begins. Is it caused by those who buy music (CDs or digital songs), buy tickets for live shows, and on general those prompting the business thanks to money flow? Or does this paranoia owe its credit to the mass media, which with a lack of original artists (they are mostly unsigned to a label with wider distribution) focuses on poorly talented copycats?
The actual state might be caused by music piracy via the internet. Those of us who are older probably remember what fun they had while waiting for a new CD or even a tape to be released which they'd been looking forward to for months or years. Itís not a hard to get any pirated music these days, which of course can be good, but doesnít facilitate the continuation and success of new bands and underground artists. Computers were supposed to help making music amongst all but seems they have their downside as well.
Iíve been observing trends in music for a very long time, and itís sad to recognize that thereís been some blind wheel since 1994. The last rock boom was grunge and nu-metal. Itís nothing surprising that music of the 60ís, 70ís or the 80ís is respected a lot. Whatís the reason? The bands were making music using either live instruments or analogue gears but not any virtual stuff. They were jamming, had rehearsals, and recording sessions were lasting a few months. Promotion was competent and reliable, what was based on putting forth real effort, passion and authenticity. There were clubs to have secret or public night parties with certain styles of music and the right audiences to perpetuate them. The DJs were to search for new interesting artists and present their music during such events. The media was making proper labels for music styles to use them in certain ways and they were interested in promotion for underground artists to show them worldwide. Record labels were about making money too, itís a must but even underground artists had a chance to be at least auditioned. And there were people, open-minded and looking for new bands, new tunes and valuable music. Yeah, people in the last few decades were the passionates and the artists were innovators, because the process of looking for new tunes was fun itself and had rather nothing to do with fashion and copycating. Bands were experimenting to get interesting, original sounds even they had fewer possibilities to use the modern technics. These days music has become a commodity, dispensed to a dumbed down audience who doesn't have too think to hard about the music they're listening to.
That's what I miss both in media activity and bands work. There is a lack of knowledge about the music's history, lack of original ideas, passion and a wide incompetence. I donít deny it is tough to invent something completely new if you have at least 50 years of show business pressure. But you have proper tools and brain to use them. Itís also tough to create being pressured that neither media nor record labels nor even the listeners might accept your efforts. But there must be some point of departure for this poor situation and there must be someone to break this standstill.
Record labels were made to release MUSIC but not focus on making money and giving shit to the world. The media has to search themselves, has to have their OWN opinions to avoid being politically correct. Political correctness is somewhat ridiculous and I still canít get why itís so often used. Present media act either like lapdogs, which are given ready-made grub to digest and excrete or like aggressive papparazzis who don't bring any authentic image of things. If you founded magazines or decided to be journalists youíd better think deeper first and write by your own.
So this is it. Of course there will be people telling me I expect impossible things and that Iím a know-all but actually I donít care because I know what passion, efforts, own opinions and deep searching can cause.
Thank you for your support and reading the webzine. Pure industrial rock style of music is seriously one of the best to pay special attention to. Remember also that it doesnít make any improvement to be closed amongst the classics only or call bands "industrial rockĒ while they donít have anything in common with the genre or try to pretend they do.
Support the real scene and all the best in the New Year!
In the end of this summary Iíd like to give my thanks to three people who has been helping Fabryka webzine to develop throughout this year:
Ergo Ė the owner of
Darknation.eu
music portal - thanks to his special interest and generousy Fabryka is one of the webservices hosted for free with no shitty ads and no delays;
Brian Backlash Ė good friend and my interviews co-worker whom Iíd like to thank for a pure drive to promote good music and a professional attitude to journalism.
Vesper Ė his continuous support, cooperation as for the podcasts, English translation piece of help and fresh ideas give a kick of motivation.
My thanks go also to the two journalists for their interest to interview me: Abraham Issac (Deathcanwait Records) and Jordan Aquirre (Metal America). Both interviews available at Fabryka webmaster section.
NINa
Poland, 01/23/2007
Fabryka [Industrial Rock] webzine
www.industrialrock.net
www.myspace.com/industrialrock
---
Add-ons:
Below you can find a list of the interviews published in the end of 2005 and mostly through this year. I'd like to thank all the artists and producers who answered our nosy interview requests and gave us really interesting views and opinions:
09/2005: Mark A. Miller [Out Out];
10/2005: Sean Payne [Cyanotic];
11/2005: Jared Louche [Chemlab, H3llb3nt, Altered Statesmen],
Seibold [Hate Dept., Americlone, Super Sport],
Charles Levi [My Life With The Thrill Kill Kult, Project .44, Bangalore, Chemlab, H3llb3nt, Haloblack, Pig, Pigface, Sister Machine Gun, The Urban Soundtrack];
12/2005: MD Clayden [Pitchshifter, This is Menace], Eric Powell [16volt, Ringer], Jim Marcus [Die Warzau];
01/2006: VX-5 [Cynergy 67], The Strange;
02/2006: Mark Welch [Slave Unit], Gabriel Wilkinson [Microwaved];
03/2006: Joshua Steffen [Halo In Reverse], Nelson Hagood [Synchro Nine Factor], Punish Yourself;
04/2006: Screaming To God, The Paramecium, Wiktor Skok;
06/2006: Adam Grossman [Skrew, Angkor Wat, Ministry, Testify, Malekko], Cruentus, Proghma-C, DAX, Mike Carrasquillo [Isol8ed], Matt Collins [Hazmat];
07/2006: Cyber Axis, Lockdown, Drioux GalvŠn, Chris Harris [Project .44], Adam Pask [Pask];
08/2006: Jim Davies [Victory Pill, Pitchshifter], SiNDADDY, Neil Kernon, Sean Beavan, Simon Logan, Marazene;
09/2006: Chris Bradshaw [Burning Retna], Phil "Phildo" Owen [Snow Black, Revolting Cocks];
10/2006: Stayte, Nick Beggs, Lustmord, ManufraQture;
11/2006: Human Factors Lab, Fanoe, John "Servo" DeSalvo [Bile, 16volt, Chemlab], Particle Son.
---
2. This is also a place to mention most of interesting and forthcoming albums:
(2007)
16volt – FullBlack Habit + a remix album
Bile – Hate Radio
Bound in Oblivion – The Way Back Down
Chemlab – Stapled and Sutured (a tribute to Chemlab album)
Cyanotic – Transhuman 2.0
Hazmat – album title to be announced
Isol8ed – The Scene Full of Invisibles
Nine Inch Nails – probably Year Zero
Malekko – album title to be announced
Ministry – probably The Last Sucker
N17 - album title to be announced
Particle Son - Amerikkkan Genocide
Project .44 – Coup D'Etat (remix album)
Rabbit Junk - album title to be announced
Replica – Disconnect
SiNDADDY – hyperDISCOrdia (remix album), The King Star
Stayte - Cognitive Dissonance (The Art of Lying To Yourself)
Treponem Pal - album title to be announced
Victory Pill – album title to be announced
---
3. Links:
Bands:
16volt:
http://www.16volt.com/
Bile:
http://www.teknowhore.com/
Bound In Oblivion:
http://www.boundinoblivion.com/
Burning Retna:
http://www.myspace.com/burningretna
Chemlab
http://www.hydrogenbar.com/
Cyanotic:
http://www.cyanotic-online.com/
eXelement:
http://www.abstraktsystem.com/
Fanoe:
http://www.fanoeband.com
Halo In Reverse:
http://www.haloinreverse.net/
Hazmat:
http://www.myspace.com/hazmatband
Human Factors Lab:
http://www.humanfactorslab.com/
Isol8ed:
http://www.isol8ed.com/
Lucky Striker 201:
http://ls201.free.fr/AEx.htm
Marazene:
http://www.marazene.com/
Mephisto System:
http://www.mephistosystem.com
Ministry:
http://www.ministrymusic.org/
My Life With The Thrill Kill Kult (MLWTTK):
http://www.mylifewiththethrillkillkult.com
Nine Inch Nails:
http://www.nin.com
N17:
http://www.myspace.com/n17
Particle Son:
http://www.myspace.com/particleson
Pitchshifter:
http://www.pitchshifter.com/
Project .44 :
http://www.project44music.com
Pulse Faction:
http://www.pulsefaction.com
Punish Yourself:
http://punishyourself.free.fr/
Replica:
http://www.myspace.com/replicanoise
SiNDADDY:
http://www.myspace.com/sindaddyrocks
Society 1:
http://www.society1.net/
Stayte:
http://www.stayte.com/
Synchro Nine Factory:
www.myspace.com/synchroninefactor
Treponem Pal:
http://www.myspace.com/treponempal
Victory Pill
Labels:
http://www.thirteenthplanet.com/
http://positronrecords.com/
http://www.primordialmusic.com/
http://www.radio-valkyrie.com/