| | | |
| --- | --- | --- |
| | About Fabryka IR&M Encyclopedia | |
| | | |
| --- | --- | --- |
| | [02/14/2012] Society 1 release a promotional clip of the new video "Kill Me" | |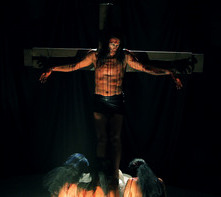 Society 1 has released a promotional clip of the new video "Kill Me" (directed by Amy Sampson and Lord Zane) via their YouTube channel. The thirty second clip gives the viewer a brief yet bombastic preview of the full length being released February 28th. The images range from Zane being crucified to suicidal blood orgies.

"This is just a little taste of what to expect. Hopefully YouTube will allow the full length to stay posted after its release. Although there is absolutely no nudity or excessive violence the images are somewhat controversial and intense." said Zane. "Kill Me" will also be available through iTunes on February 28th.

Watch this promotional video on YouTube.
| | | |
| --- | --- | --- |
| | Varicella - Dead is Better | |
HOME
REVIEWS INTERVIEWS
All reviews
Short music reviews part 1
Short music reviews part 2
All interviews
Short movie reviews
Testimonials
ARCHIVED CONTENT
About Fabryka Magazine
What's industrial rock?
Quick encyclopedia
Industrial manifestos pdf
Podcast archives
News archives by year
Article archives by year
All article archives
Legal music
Fabryka promo events
INTERNAL
Staff
ART, WOODWORKING & CD COVERS
Draconina's art on Deviantart
OTHER WEBSITES
Philodendrons
Fire Dragon's Gemstones
Drakonia Tarot
| | | | |
| --- | --- | --- | --- |
| | Content (open) | | |
| | | | |
| --- | --- | --- | --- |
| | Keywords (open) | | |